Hi, I'm Vincent Biñas. A new hire working as a Junior Developer in Minma Inc. As my first blog post, I will talk about how I got work here.
Why Japan?
I have always dreamt of working abroad, with promises of a better quality of life, good work-life-balance, and a new point of view brought on my experiencing a new culture. I have considered a number of countries near Asia. I have found Japan to be the best fit. The people, the scenery, everything was welcoming when I first visited. I have considered Singapore, where its close vicinity to the Philippines, and English language a plus. But in contrast to Japan opening its doors more to foreign workers, Singapore has stricter laws. Hong Kong was also in my list, but the high standard of living makes it nigh impossible for me to afford. Japan's rent may also be high, but in certain places, they have great value. Weiging the pros and cons, I decided to go to Japan.
Finding out if I am up for this
Working my way into Japan, I earned enough money in the Philippines for a year. Given the uncertainties, I would like to experience living for the first time abroad for a little bit before committing. That's when I decided that I will study Japanese in Japan for a year before finding work.
Getting into a Japanese language school has its hardships as well, but that's for another blog post in my opinion. But long story short, I came to Tokyo, what I earned was unfortunately not enough. I found a freelance job that got me enough money to afford my stay here, and it was also a good experience that would help me later on. 3 months before my graduation, I applied and got into an interview from one of the game companies I follow.
Rollercoaster ride of emotions
I got rejected. A game company I was aiming for gave me the sad news via email. I pretty much expected the result. I breezed through the first casual interview in English, but went bananas over the second interview, which was in Japanese. Their HR, however, referred me to a recruiting agency. I was surprised when the assigned recruiter called me through my phone. After registering and going through a number of steps, the volley of referrals came in like a flood. To be completely honest, I never really had an entry there that I was interested in.
There were only car companies, medical systems, and other technical things far from what I love; games or websites! It was rather hard to choose. One had caught my eye though, Minma Inc. The company outline was quite different from the others, I should say a little more lenient, in which, feels like the specs connect to devs more. Other companies expect a lot from their applicants, not to mention how I was still in a slump from almost making it to a game company I follow. Days turn to weeks, and out of the three companies I applied to, only one proceeded with the interview. You've guessed it: Minma Inc.
The recruiter gave me some resources about the company, including interviews of the CEO. Given my Japanese level at that time, I had little knowledge on such unfamiliar terms, and ended up google translating most of the things written. Google translate does wonders to perfectly structured Japanese, either turning them into unintelligible pieces of English, or changing their meaning altogether. I managed to get by understanding it due to spending a year in a Japanese language school, but losing some of the nuances that would've shed light on what this company exactly is. Expecting a very strict atmosphere, I had mentally prepared myself, including practicing Japanese to get by. What I saw when I went to the office was the total opposite.
People wearing casual clothes, no dividers, a hangout, games,
and CATS.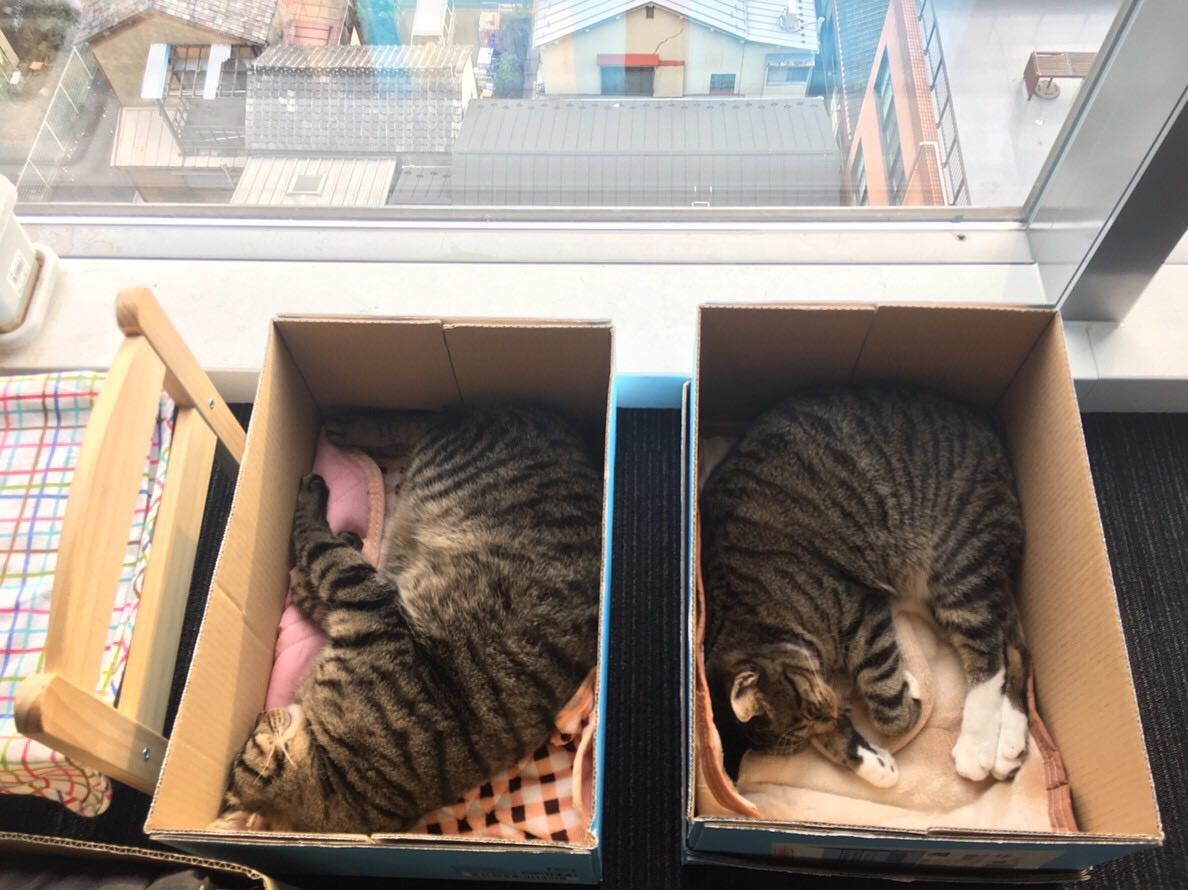 I was very surprised. The first interview went by pretty well, I had little misunderstandings, and managed rather well with the questions. I passed this interview.
With my newfound confidence, I gave myself a pat on the back, and prepared for the second interview. The recruiter gave me the information about what the second interview will contain: a technical interview, and an SPI test. SPI Test? I wonder what that is? A quick google search gave me a horror story. Advanced Japanese questions that even natives have a hard time, and not to mention math questions and a personality test! I would want to study, but a leeway of 1 week was pretty unforgiving. My "newfound confidence" by this time disappeared in a jiffy. Going in for the second interview, I was a nervous wreck. I came in and found that somehow, people were surprised I'm here. I was equally confused. "How did they not expect an interviewee coming today?" I wondered. It turns out, I was a day early. I bet I turned beet red in embarrassment, they called the recruiting agency to confirm if the date was mistaken or not. Though the email confirmed that I was at fault. Wednesday, 水曜日 was written there, and it was Tuesday, 火曜日. Given how strict the Japanese custom of being punctual is, it made a nervous wreck of me even worse.
"My chances here are close to nil by now" My mind tells me. Coming in the actual date and taking the test did not really make me any more confident. The SPI was hard enough that I give myself a solid 2/10 for my performance in that test. The technical question was doable in my opinion, but what exactly what I must do is shrouded in Japanese largely unheard of by me. I managed to get an outline of the solution out, but I was not able to answer the follow-up question. Walking home with my head low, I pretty much was back on recruiting sites searching for other possible jobs. I was definitely not passing that one! God knows when I would find a company that has a good atmosphere, and cats.
With my finances and time spread thin, I had no choice but to go for another 6 months. I paid my tuition and hoped for the best for another 6 months. The recruiter that has always been in contact with me called. I expected the bad news, I couldn't be anymore prepared to take it. But lo and behold, I somehow passed the second interview. Surprised and happy is an understatement to what I felt that time, but of course, at the back of my mind, I always know that there is still a third interview. My friends were telling me that the third interview is already a go sign. That gave me a confidence boost, but I still have caution.
The third interview was pretty much a breeze. All there was, was a talk with the CEO, and a company tour. It got me excited. It was only a matter of weeks when I got my offer letter. I finally have a job!
Conclusion
In the end I do not know if it's by chance or not that I got here, but I am certain that it is because I carried on with a crazy dream that got me to where I am. At present, Minma Inc is a very good place to work! Free drinks and snacks, lots of leisure facilities, and awesome workmates. I have to say though, that cats here are definitely best perk. One month in and I still have ways to go when it comes to dev skills and communication, but everyone's a champ for being great mentors, not to mention how the company gives every person abroad optional Japanese language lessons. Minma Inc is hiring by the way, so if you are interested, stop by our website at http://www.minma.jp/careers.